Over the years Storm Internet has collected a number of awards. They reflect a core methodology by which we empower our clients by providing them with the technology and tools they need to accomplish their goals efficiently. These awards also provide us with the means to assure our clients that they have indeed made the right choice by choosing Storm Internet - that we're more than just another provider; we're a partner in technology. And by being honest and fair, and operating transparently with the services we provide and the equipment we use to provide them, we hope to communicate to those who do business with us that they are valued. These awards reflect our commitment. They reflect our clients.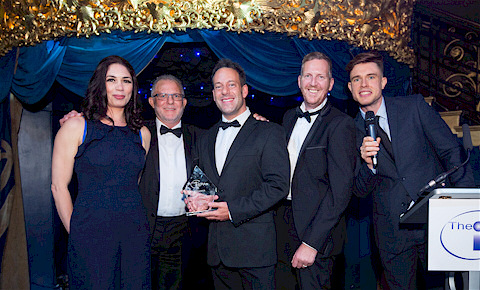 The ISPAs 2017
Winner - Best Cloud Service award
Winner - Best Host award
Storm Internet are delighted to announce they have been awarded Best Host 2017 and Best Cloud Service 2017 at the 19th Annual UK Internet Industry Awards, hosted by the Internet Service Providers' Association (ISPA) at the Café de Paris in London on 13th July 2017...

Read more...
The ISPAs 2016 - Winner - Best Cloud Product
The longest running and most prestigious event of its kind in the UK, this year's ISPAs where held at The Brewery in the City of London. Seventeen awards were presented, each more hotly contested than the next in what is fast becoming one of the UK Internet Industry's...

Read more...
The SVC Awards - Runner Up - Hosting Provider of the Year
We were honoured to be voted runner-up in the "Co-location/Hosting Provider of the Year" category second only to Time-Warner owned company "Navisite" at the prestigious 2015 Storage, Virtualisation and Cloud (SVC) awards in London.

Read more...
The ISPAs 2015 - Winner - Best Business Use of Cloud
To be awarded with the "Best Business Use of Cloud" in such a tough category is a huge achievement. This was a brand new award at the ISPAs so to be the first hosting company to win this really is an honour. Judging criteria included innovation of the cloud solution as well as the benefits and ROI that the cloud solution could bring to the end user. This award makes for an ISPA hat trick, after winning "Best SME business host" and "Best Dedicated host" at the 2014 awards.

Read more...
The ISPAs 2014 - Winner - Best Dedicated Hosting
Following our success at the 2013 Internet Service Providers' Association (ISPA) awards ceremony in 2013, we're deeply humbled to have won the Best Dedicated Hosting category at the 2014 ISPA awards. Judging criteria for this category included pricing and value for money, account management and hours of support, speed, security, back-up and redundancy services, server maintenance, and peering with other ISPs.

Read more...
The ISPAs 2013 - Winner - Best Business Hosting
First time entrants Storm Internet rushed to victory in the highly contested Best SME Business Hosting category at the 15th annual Internet Service Providers' Association (ISPA) awards event. Consideration for the Best SME Business Hosting award is based on hosting services offered to small- and medium-enterprises. It is judged on a gamut of criteria including support availability, service reliability, speed, as well as price and value for money. Each nominee in the category underwent two months of rigorous testing by the ISPA for consideration.

Read more...
Hyperspin.com - Top 10 for reliability
According to hyperspin.com "any webhost with uptime more than 99.5% is considered a reliable webhost." We're proud to have been listed among the top 10 hosts for uptime for the past three consecutive years. The secret of our success, however, isn't such a big secret - just good redundancy. Multiple tier 1 connections ensure that our clients stay online 24/7/365, even when the rest of the internet breaks down.

View Hyperspin Ranking
Cloudscape - Recognised Top IaaS provider in the UK
In March 2014 Storm Internet was listed as one of Cloudscape UK's leading infrastructure as a service (Iaas) providers by independent market research and consulting firm The METISfiles. While IaaS may refer to hosting in general, the Cloudscape UK list constitutes the very best providers offering cloud services to the business market.