Server Management Options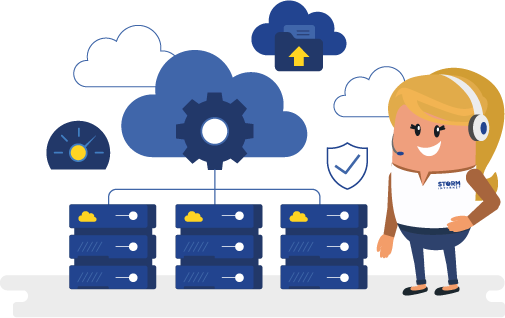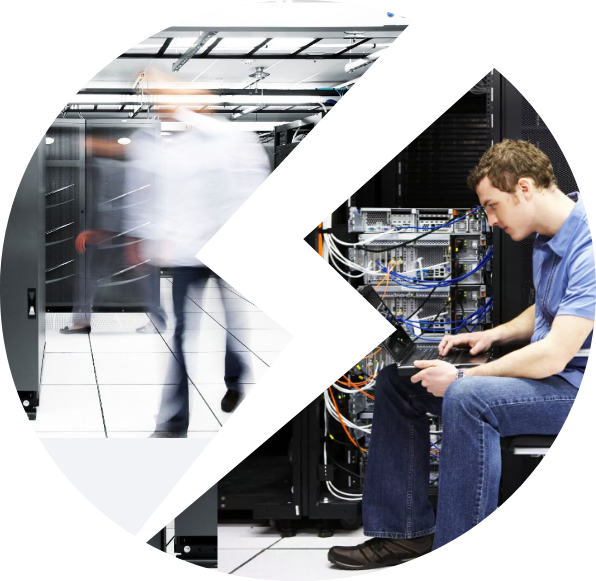 Server Management that frees up your time and delivers ultimate peace of mind
Storm delivers full-scope server management for any type of budget. Now you can refocus your IT teams on mission-critical tasks while we take care of the hosting overhead. You'll always be online, up to date and secure, and backed up to guard against life's unexpected surprises.
All packages include 100% network uptime, security, and backups
You get your own dedicated Storm Support Pod
You'll always have access to priority 24/7/365 support
Tell us what you need
Moving forward is easy when your server is managed by Storm
Spending too much time fixing errors, checking backups, and keeping your sites and apps safe? What if you had a team of professionals doing all that heavy lifting while you stay focused on the road ahead?
We'll proactively monitor your server(s) and hosted services and eliminate potentially crippling anomalies to help keep you online 24/7/365.
Updates, Security & Backups
You'll be more at ease when you're up to date, safe, and protected against life's unexpected moments. We'll ensure your server is running the latest updates and secured against common and emerging threats. And you won't have to worry about backups – we'll run and verify them, and wrap them in industrial-grade encryption.
At Storm you're never left facing hosting challenges on your own. With your own dedicated Storm Support Pod of 6 engineers, you've got a helping hand and on-demand expert technical advice, 24/7/365. Get in touch via LiveChat, or just drop us an email.
PCI external vulnerability scans
All dedicated and virtual servers receive quarterly SecurityMetrics PCI external vulnerability scans as standard. The entire scan process is fully-managed, and is run every three months. Any red flags detected during scans are automatically addressed by your dedicated Storm support team. Optional certification for individual websites is also available. Learn more about PCI DSS Certification.
Server Management Levels
| | Standard | Business (Recommended) | Enterprise |
| --- | --- | --- | --- |
| Performance & Reliability | | | |
| 24/7/365 Proactive Server Uptime Monitoring | | | |
| Proactive URL and port availability monitoring | 1 included | 4 included | 8 included |
| Guaranteed Tech Support response time to a Monitoring alert | < 15 mins | < 5 mins | < 1 min |
| Capacity threshold monitoring | | | |
| On-Demand Server Health & Performance Check | | | |
| Scheduled Server Health & Performance Checking | - | | |
| Application service and performance monitoring | - | - | |
| Root/Admin Level Server Access | Optional | Optional | Optional |
| Access to our Server Experts | | | |
| 24/7/365 access to our Multi-Award winning support service | | | |
| Full support for Windows & Linux Operating System issues | | | |
| Migration Support | | | |
| 24/7/365 Ticket Based Technical Support & Advice | | | |
| Initial response time | < 1 hour | < 30 mins | < 15 mins |
| 24/7/365 LiveChat Technical Support | | | |
| ISO 27001 and ISO 9001 Certified | | | |
| Dedicated Technical Support Pod | | | |
| Customisable Escalation Procedures | - | | |
| Best effort support for third-party applications | - | | |
| Cost Analysis, Management & Optimisation | - | | |
| Dedicated Account Manager | - | | |
| Scheduled Support Tasks | - | | |
| Prioritised Support | - | - | |
| Server Security | | | |
| Standard Network Based Security | | | |
| Patch Management & Security Updates | | | |
| Performance and security advisory services | | | |
| Basic DDoS Protection | | | |
| Brute Force Protection | | | |
| Server Services Hardening (RDP / SSH / cPanel / FTP / TCP) | | | |
| Virus, Malware & Ransomware protection software | Optional | Optional | Optional |
| Proactively Managed Server PCI Compliance & Certification | | | |
| On demand and scheduled Security Audits | | | |
| Reverse Port Monitoring | | | |
| Web Site Security | | | |
| Web site security managed to PCI compliance levels | | | |
| Advanced DDoS protection - Layers 3, 4 and 7 | | | |
| Advanced DDoS support - 24/7/365 uptime | | | |
| Web Application Firewall (WAF) | | | |
| OWASP ModSecurity Core Rule Set | | | |
| Backups & Data Recovery | | | |
| Managed Data Backups and On-Demand Restorations | | | |
| Additional options for servers hosted in Storm data centres | | | |
| 100% Network Uptime Guarantee | | | |
| Hardware Issue Support | | | |
| Hardware Replacement Guarantee | 2 hours | 1 hour | 30 mins |