eCommerce & Marketing
Summary: Semrush State of eCommerce 2023 Report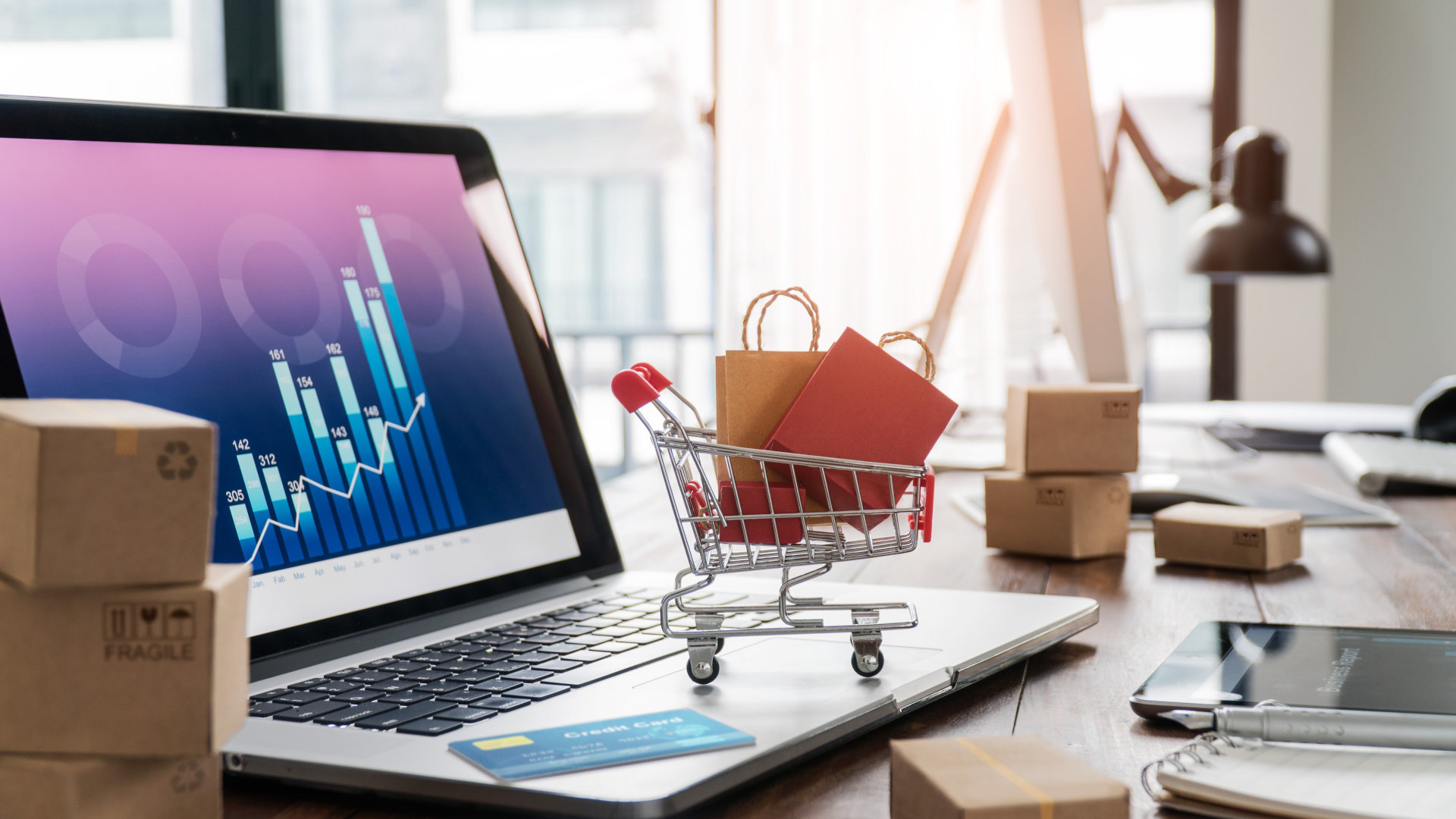 SEO giant Semrush's recently released report, The Future of Ecommerce is Now, promises insights into the most significant trends currently shaping the eCommerce landscape, and how those trends will play out in the future. The summary below focuses on some of the key takeaways from the report.
Note: Not everything from the report is included in this post. Download the full report here (it's free).
2023 Can See Record eCommerce Traffic
The report begins with an analysis of eCommerce traffic trends between 2019 and 2023. Traffic growth remained stable at 18% from the second half of 2019, peaking at the end of 2021. This was followed by a rapid and significant drop near mid-2022, recovering since then to reach near the previous peak. The report suggests that end-of-year shopping in 2023 could push eCommerce traffic to record highs. 
On the country level, the United States and India showed the biggest changes. The U.S. eCommerce traffic share fell to 31.21% of global eCommerce traffic from 50.22%. India, on the other hand, climbed from 3.05% to 8.43%. 
According to the government website Invest India, India's internet access is said to top 907 million (64% of the population) in 2023, with increased smartphone penetration, lower data prices, and more disposable income as reasons for continued eCommerce growth.
Traffic Share by Channel
eCommerce traffic share by channel remained relatively constant between 2019 and 2023, with direct traffic and organic search as the two biggest channels. While other channels have remained relatively stable between 2019 and the first half of 2023, direct traffic and organic search have indicated the biggest changes since the second half of 2022.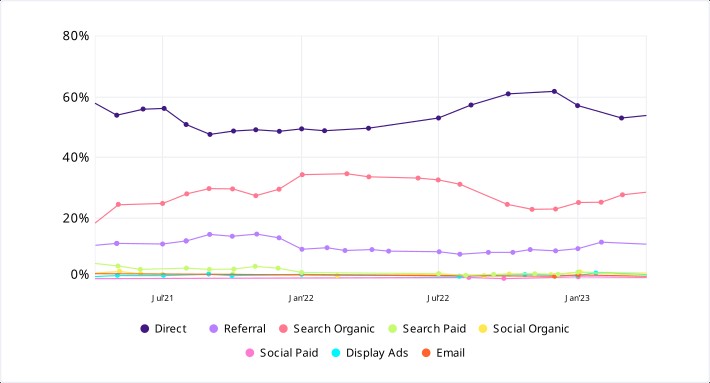 Key takeaways:
Despite fluctuations, direct traffic accounts for more than half of all eCommerce traffic

Organic search eCommerce traffic peaked in early 2022 and is currently on a slight upward trend

Referral traffic is third in terms of traffic share with highs in October 2021 and early 2023

Other traffic channels include paid search, organic social, paid social email, and display ads. None of these channels reaches above the 2% mark between 2019 and 2023
Growth in Asian eCommerce markets
India, along with other Asian countries is showing resilience in the face of global uncertainty and represents the fastest-growing markets globally. While U.S. companies continued to largely dominate the eCommerce market in terms of traffic, Asian eCommerce sites are growing the fastest, with China-based aliexpress.com showing an almost 44% increase in year-on-year traffic, India-based e-tailer Flipkart 90% y-o-y, and lazada.com.ph a staggering 200%.
amazon.com, walmart.com, and ebay.com all showed y-o-y growth with 0.94%, 35.82%, and 15.93% respectively. It's worth noting that amazon.de and amazon.co.uk indicated increased traffic at 16.22% and 20.22% respectively, compared to amazon.com's <1% growth.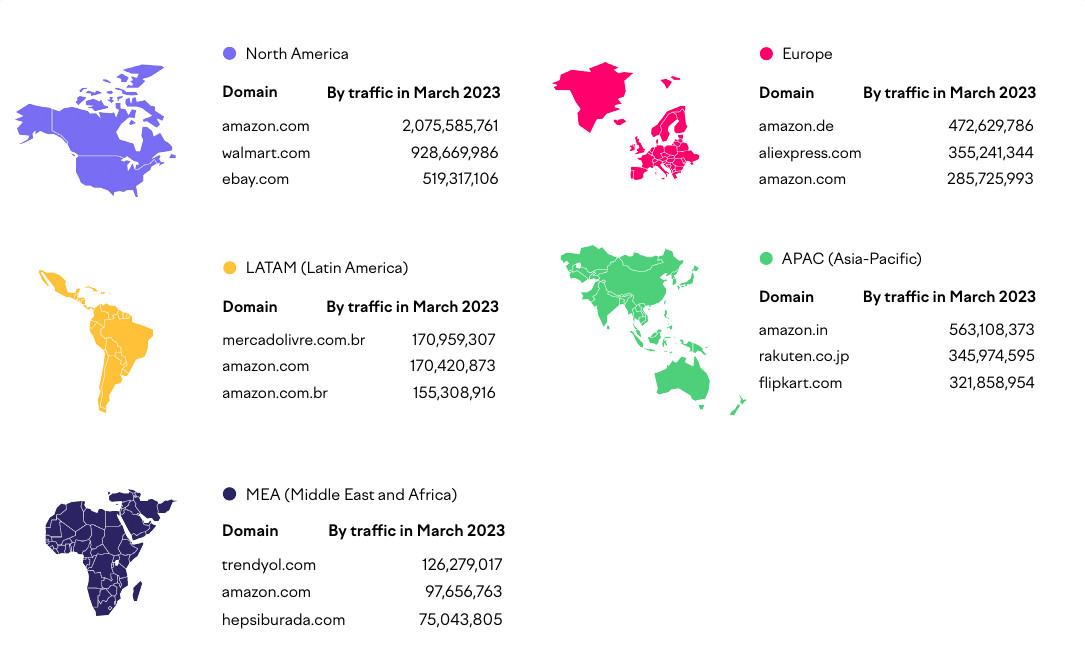 Mobile is Dominating eCommerce
Mobile apps have become the primary channel for consumers to shop online, indicating the need for mobile apps to form a core component of eCommerce strategy.
The report includes a list of the top shopping apps used by consumers with data from Apptopia:
Meesho (127M downloads)

Shopee (118M downloads)

SHEIN (117M downloads)

Amazon (81M downloads)

Shopsy (64M downloads)

Flipkart (50M downloads)

Pinduoduo (37M downloads)

Lazada (36M downloads)

Alibaba (30M downloads)

Mercado Libre (28M downloads)
The first three entrants in the list above are all owned by China-based companies. Interestingly, despite walmart.com, aliexpress.com, ebay.com, and etsy.com showing the most traffic for 2022-2023, they don't feature in the top 10 list for app downloads.
Desktop vs Mobile
The effects of the pandemic are visible in consumer device trends. Before pandemic-related restrictions came into effect mobile traffic far outstripped desktop devices. From mid-2020 until early 2021 desktop and mobile traffic were almost equal. As restrictions were lifted, mobile traffic not only dominated, but rose to record highs for the 2019-2023 period. This should underscore the importance of responsive websites to ensure a consistent user experience across all devices.
Social Media
While social media itself currently has a relatively small share of traffic distribution, it does play a vital role in terms of brand awareness, customer engagement, customer acquisition, and customer retention. The report further suggests that sales through social media could top $1.4 trillion by 2025.
Emphasis is placed on rising star TikTok which has surpassed the 1 billion user mark. Between 2022 and 2023 audience numbers for leading brands have more than doubled on TikTok. The report suggests that brands should capitalise on the growing social media platform, because:
Setting up a TikTok storefront is easy through simple integrations with other eCommerce platforms

Hashtags and keywords can be used to increase visibility

TikTok provides access to younger audiences
Most Effective CTA Triggers
The report focuses on the best-performing products among the top eCommerce giants, with The Lord of the Rings: The Rings of Power leading the race with 1,557,722 monthly views. But perhaps of greater interest is the list of top emotional triggers leading eCommerce stores use in their ads.
"Free shipping" and "Store pickup" occur the most frequently across the various domains. However, each domain also has its unique phrases tailored to the domain and its users.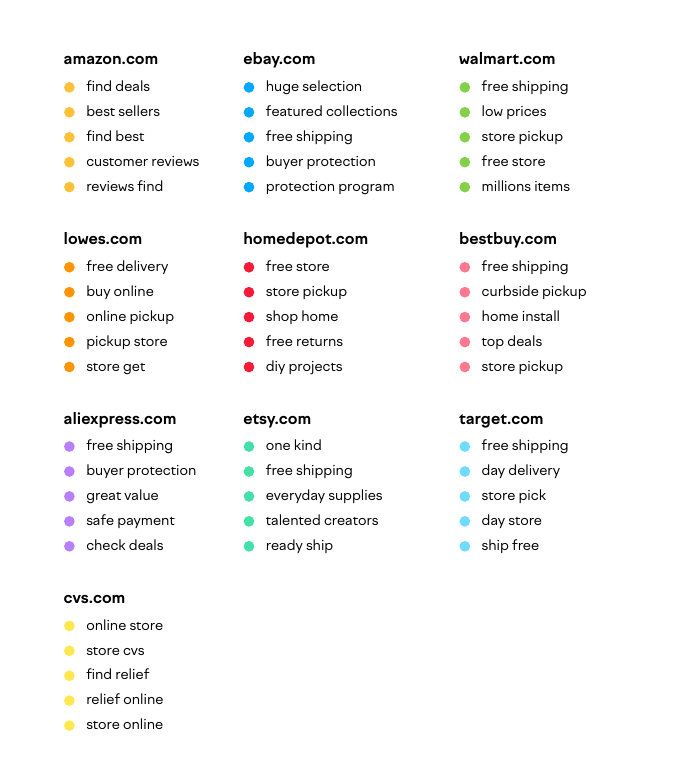 Conclusion: What's not included here?
The report also focuses on U.S.-specific trends, such as "The Top U.S. Ecommerce Players" and their ad spending, "The U.S. Ecommerce Competitive Landscape", and "Ecommerce Industry Traffic Trends U.S." It also includes a section dedicated to "Artificial Intelligence, Augmented Reality and the Future of Ecommerce" which includes examples of how AI and AR can be implemented to enhance the customer experience. Finally, it includes a section for "The Giant on the Market: Analyzing Amazon.com for Insights."
Speak with a Storm Expert
Please leave us your details and we'll be in touch shortly