Interested in working for a growing technology company?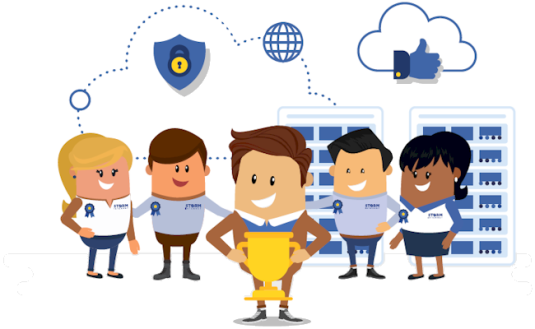 Join a multi-award winning fast growing technology company that offers our employees the opportunity to make a real impact!
Our Culture
Interested in working for a growing technology company with lots of passion, energy and excitement? We're one of the UK's fastest growing managed hosting companies but still offer the opportunity for our employees to make a real impact.
Who we hire
We're passionate about innovation – taking enterprise ideas and making them available to all businesses, no matter their size. Sure, we're a tech company, but in the end Storm is about people – developing new solutions to help our customers do more and do better with less worry. Storm people are people who go the extra mile to solve other peoples' IT problems, who embrace innovation when it comes to the ways established tech can be applied.In return for your hard work, we'll take care of you. We have some great benefits and career progression opportunities for our hardworking Storm team members, because when you give your best, you'll get the best in return.
Where we are
Our offices are set in lush countryside on the outskirts of Oxford, giving you the opportunity to trade a daily commute of traffic jams and crowded public transport for a pain free scenic journey. But just in case you need to pop into town, Witney is just 10 minutes away.
Working for us benefits
We go the extra mile to eliminate stress and worry for our customers, but what about employees? We know hard work and dedication deserves rewards and at Storm we value every employee who delivers. This means a solid foundation for financial growth, options for health and wellness, and time to spend with your nearest and dearest.
We're big believers in rewarding hard work and commitment which is why we offer competitive salaries and additional profit-related pay. Added to the mix are share options and healthy pensions to ensure that you're set up in the long run. We'll also help you level-up in your professional career with additional training and further education.
Need to work from home? No problem. Because the 1980s are long gone and we believe in flexible hours and remote work options. School-hour contracts are also available for parents with school-going children.
We want our members of staff to bring their 'A' game every day. We know this starts with a happy and healthy life, both at work and at home. Gym membership and health insurance is our way of creating a structure to support you and give you the tools you need to enjoy optimal health. Added to that mix is a minimum of 25 days paid leave per year to recharge your batteries.
Whether you're in sales, marketing, or engineering, you're a Peace-of-Mind Engineer for Storm customers. But you're also part of the Storm family, which means close-knit relationships, easy access to advice and guidance, and the knowledge that you are a valuable part of the team.
Once a week we'll foot the bill for lunch. Whether that's a take-away or pub lunch, you'll have the opportunity to cast your vote. Then there are the seasonal parties and annual road-trips or outings, and other social events where family members are welcome… because all work and no play, well, sucks.
Current Vacancies
Sorry, no vacancies right now.