Managed Drupal Hosting
Fully-managed Drupal hosting that supports tangible business results
Get started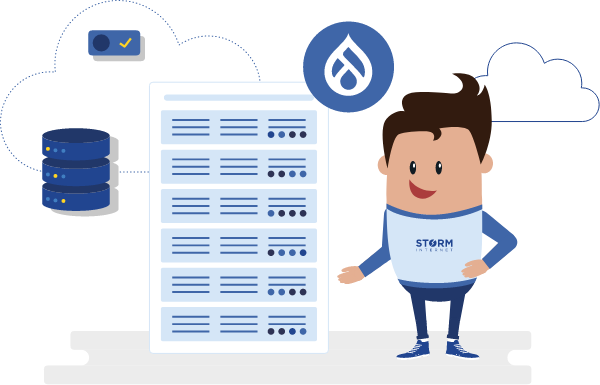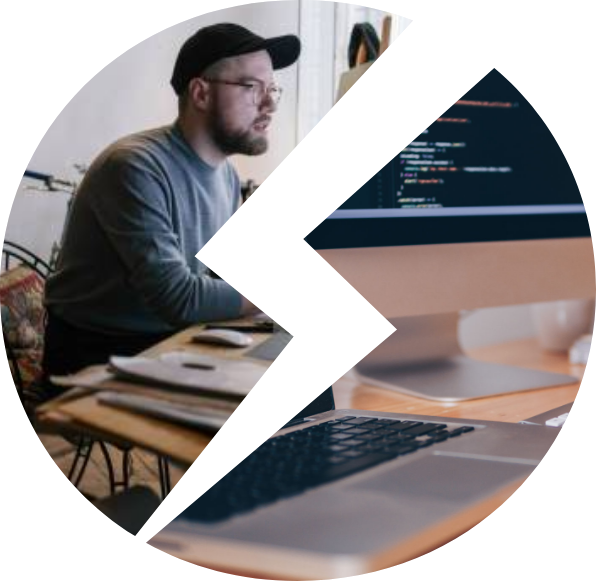 Run engaging Drupal experiences on an award-winning platform
Beginners and advanced developers love hosting Drupal with Storm. Predictable stability and cutting-edge security give you a hosting platform that requires less work to maintain productive development and production environments. Whether you're running complex membership sites and Drupal Commerce stores, or just a simple portfolio, giving your visitors and end-users what they want is easier with Storm.
Choose your Drupal hosting package
All Storm servers are equipped with super fast multi-carrier low-latency connections and a 100% network uptime guarantee. Got a custom server requirement? Ask us
Linux GO
The perfect place to start with your Drupal website
£19.99
(ex. VAT) per month
10GB SSD space
Shared resources
Basic support SLA
Order Now
StormCloud Drupal
Ideal for membership sites and Drupal Commerce platforms
£99.99
(ex. VAT) per month
4 vCPU, 4GB RAM & 40GB SSD space
Dedicated resources
Order Now
Custom build
Tell us what you need
from £49.99/mo
Custom configuration
Host 1 - 100+ Drupal sites
Get in touch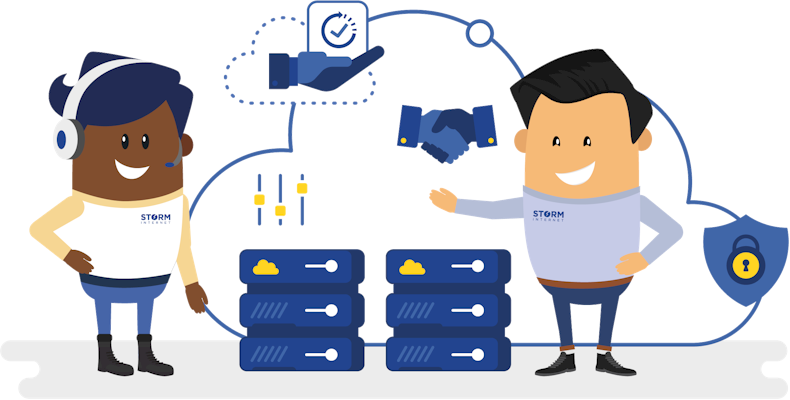 Fully managed support & 24/7 security
You won't have to navigate a jungle of complex hosting options with Storm. Features like advanced site security, DDoS protection, and disaster recovery are handled by your dedicated team of six engineers, who also extend your team with 24/7 on-tap expertise and assistance.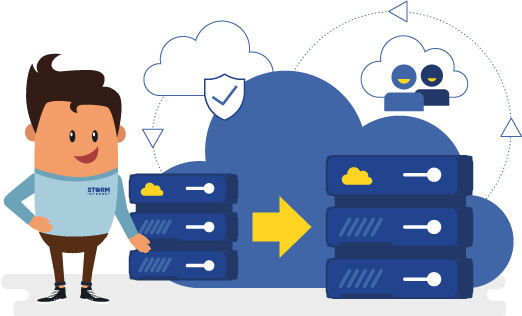 Free migrations
It doesn't matter how complex and integrated your Drupal environment is. When you switch to Storm you can sit back and relax while our solution architects plan and execute your move to Storm. Zero downtime. Zero data loss. Just a bump in performance.
Learn more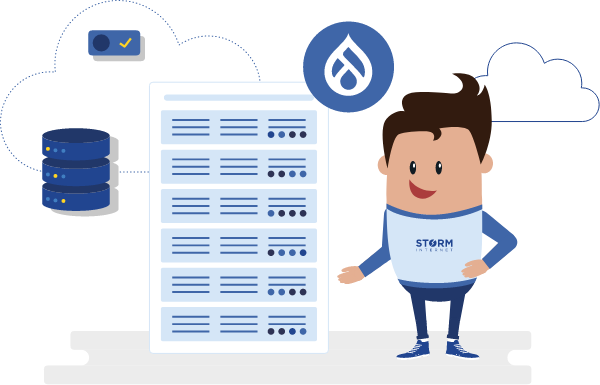 Drupal experts
Finding the expertise that can deliver end-to-end Drupal solutions can be tough. But through Storm's Trusted Partner network you've got a pool of vetted Drupal professionals that can analyse, develop, create and maintain as you need it.
And we're 100% green too
We proactively monitor our CO2 emissions and adjust our tree planting activities to offset more emissions than we produce. When you purchase a hosting solution or server from us you can be confident that you too are investing in the environment and a greener future for all.
Find out more
Why people choose Storm for Drupal hosting
Since 2004 we've been helping our customers overcome hosting challenges with perfect-fit cloud solutions. Get your Drupal hosting from Storm and we'll also take care of maintenance and security, and deliver 24/7 rapid support to eliminate distractions on the road ahead.
We've eliminated all the technical barriers to Drupal hosting with a dedicated solution architect focused on your long-term goals, budget preservation, and operational efficiency. Every tailored solution is designed to be secure, compliant, and includes end-to-end support by a dedicated team of engineers.
75+ Global hosting locations
Host where your customers are at any of our 75+ global hosting locations. Storm Internet's data centre partners are ISO-accredited and specialise in building and managing top-tier data centres. We thoroughly vet all our data centre partners for security and financial viability to deliver continuous service stability to our customers.
We're independently ISO9001 (Quality Management Systems) & ISO27001 (Information Security) certified. This means every Storm solution is designed according to strict standards that delivers robust reliability and cutting-edge protection of your hosted information.
All Storm hardware is subjected to more than 45,000 vulnerability scans before deployment, while 24/7/365 human and AI surveillance and multi-layer network security guards our infrastructure. Storm dedicated and virtual servers receive quarterly SecurityMetrics PCI external vulnerability scans. Any red flags detected during scans are automatically addressed by your dedicated Storm Support Pod. Optional certification for individual websites is also available.
We're with you for the long haul from the moment you sign up. Share your ideas and goals, and we'll work with you to make them happen – even if we have to invent new solutions or bend the rules. These aren't just fancy words; our one-on-one commitment to our clients is demonstrated through our various awards.
FAQ: Drupal Hosting
Drupal can run complex, high-traffic websites that require a high degree of customisation and scalability. Drupal is used to run a variety of different websites::
Government websites: Drupal has been widely used for government websites. It provides a high degree of security and accessibility features, as well as flexibility in content management and workflows.
Educational websites: Drupal is commonly used for educational websites such as university websites. It provides features for managing course content, student portals, and online learning environments.
E-commerce websites: Drupal can be used for e-commerce websites. Choose from a range of modules and themes to manage product listings, shopping carts, and payment processing.
Community websites: Drupal provides features for managing user accounts, permissions, and social interactions, making it well-suited for community websites such as social networking sites.
Media and publishing websites: Drupal provides a range of features for managing content, multimedia, and advertising. It is commonly used for media and publishing websites such as news outlets and online magazines.
Non-profit and association websites: Drupal is commonly used for non-profit and association websites since it provides features for managing memberships, donations, events, and volunteer opportunities.
Drupal is very secure. The open-source CMS is known for being a secure content management system with a strong focus on security features and updates. However, like any software system, Drupal is not immune to security risks and vulnerabilities. Security is dependent on how you manage your Drupal website.
To ensure optimal security for a Drupal website, it is important to keep best-practice guidelines in mind:
Keep Drupal and all modules and plugins up-to-date with the latest security patches and updates.
Use strong passwords and multi-factor authentication for user accounts.
Limit user access and permissions to only necessary areas of the website.
Implement secure coding practices and follow Drupal's security guidelines.
Regularly monitor the website for security threats and vulnerabilities.
Storm's Drupal hosting boosts your site's security with multi-layer protection that includes built-in DDoS protection as well as hardware and software firewalls. Your site is hosted on a server which has been secured to NCSC Cyber Essentials Standards, actively runs antivirus software, and is hosted in an ISO 27001 accredited data centre.
Yes, you can. However, for those without technical proficiency with content management systems (CMSs), or PHP and MySQL, it could be a challenging experience. Your website's current operating environment could also complicate the process. For example, moving from ASP.NET and MS SQL (e.g. Umbraco or Kentico) to PHP and MySQL could be more complex than moving from a different CMS already running on PHP and MySQL (e.g WordPress). So unless you're moving your content over manually – page by page and image by image – you'll likely require developer assistance.
No, we specialise in Drupal hosting, which means we can provide secure shared hosting, a cloud server, or a dedicated server for your Dupal site.
However, through Storm's Partner Network you can connect with PHP, MySQL, and dedicated Drupal developers who can assist you with your Drupal development needs.
This depends on your website – how big it is in terms of the disk space it occupies, how much traffic you get every month, and how resource intensive (CPU and memory) your website is.
Linux Go
Storm's Linux Go package is ideal for smaller Drupal websites. This is optimised shared hosting that's a step above your average shared hosting package. We limit the number of websites per server, which means there's more performance and therefore room for your website to grow.
But as with any shared hosting package, it has a few limitations. These include:
Scaling. This refers to the amount of resources that can be allocated to your hosting account. With shared hosting the amount of processing power and memory is fixed. If your Drupal website is on an upward trajectory in terms of growth and performance, you may do better with a cloud server.
Control. Drupal shared hosting is best suited to sites that won't need access to server modules or software beyond that which is required to run standard Drupal installations, modules, and themes.
It's important to be aware of these limitations before you sign up for shared hosting. If you're unsure whether shared Drupal hosting is the right fit for your website, call us on 0800 817 4727 for expert advice.
StormCloud Drupal
The difference with StormCloud Drupal is that it's a fully-managed Drupal cloud server that provides all the resources and flexibility needed to run virtually any kind of Drupal website, or even multiple Drupal websites. After all, it's your server.
The limitations of shared hosting fall away with StormCloud Drupal. You've got the resources to handle resource-hungry apps and traffic spikes, and you'll be able to run just about any software component your website may need. And unlike unmanaged cloud servers, you don't need any Linux operating system experience – your dedicated Support Pod acts as an extension of your tech team, possessing all the technical hosting skills you'll ever need.
Don't just take our word for it
Hundreds of happy retailers & brands use Storm Internet