Fully-Managed Dedicated Servers
Get the raw power of a dedicated server. Fully-managed by Storm.
Get started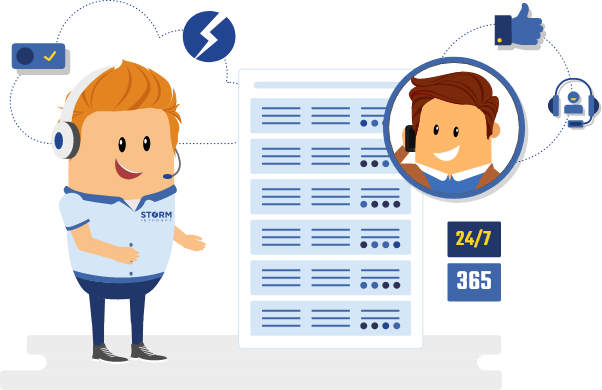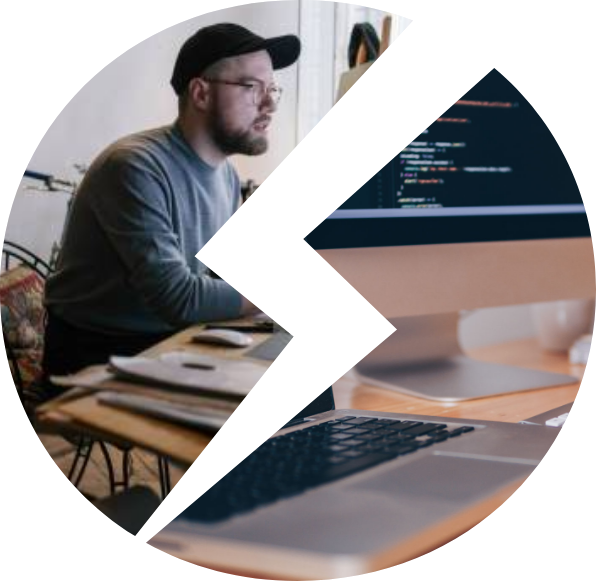 Superior power at affordable rates
Affordably power resource-hungry applications, or get the most out of your dedicated server by running multiple VPSs with light to moderate loads. All Storm servers are fully-managed and backed by comprehensive support SLAs.
Choose your server spec
Choose a dedicated server below. Or contact us to get your custom server built to spec.
Storm E3-1270
Entry
£199/mo
Intel Xeon E3 Series
(4 Core/8 Threads)
32GB RAM
2 x 2TB SSD
Windows/Linux OS
UK based hosting
Get in touch
Storm E5 Series
Mid-range
£499/mo
2 x Intel Xeon E5 Series
(20 Core/40 Threads)
256GB RAM
4 x 1TB SSD
Windows/Linux OS
UK based hosting
Get in touch
Custom build
Tell us what you need
from £149/mo
1 - 4 x Intel Xeon Processors
16GB - 384GB RAM
500GB - 16TB SSD & NVMe
Windows/Linux OS
Get in touch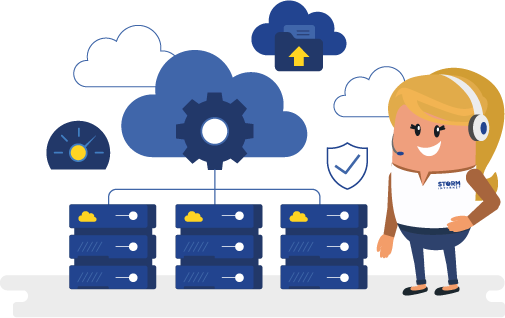 Robust security
Every Storm dedicated server is built to PCI standards and subject to hundreds of security checks before deployment. Deployed servers receive free fully-managed quarterly PCI vulnerability scans, and are always up to date with the latest security patches and updates.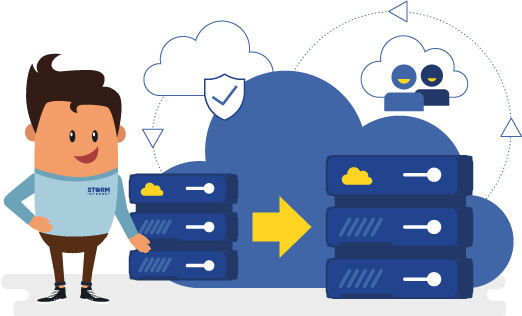 Zero downtime managed migrations
Switch to Storm and we'll migrate your data and infrastructure to your new dedicated server for free. All migrations are meticulously planned by experienced Storm solution architects to ensure zero downtime, and no disruptions.
Learn more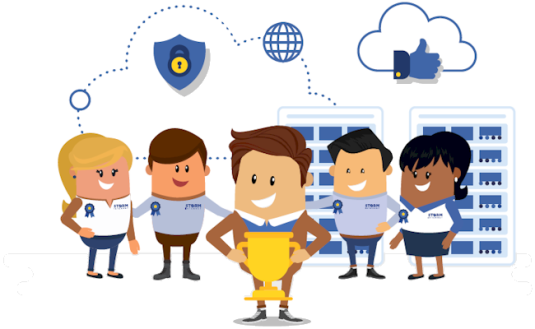 Your Storm Support Pod
At Storm you'll always speak to someone you know, who is intimately familiar with your setup. This is your Storm Support Pod of 6 dedicated engineers, available 24/7. No need for introductions or to explain everything from scratch: tell us how we can help you get back on track fast.
Learn more
Enhance your dedicated server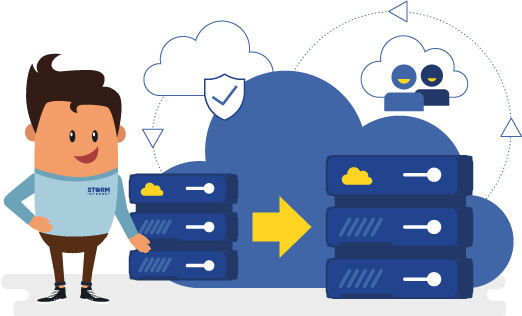 High-availability server mirroring
When failure is not an option, mirror two or more servers together. Data is replicated across all servers at super fast speeds of up to 100GB/sec. With no single point of failure your end-users can carry on working even when disaster strikes.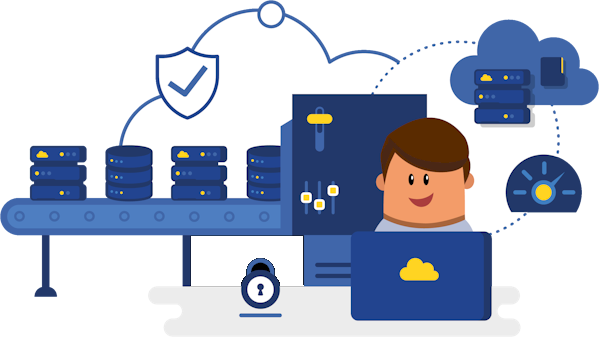 Spin up multiple servers
Use your dedicated server to its fullest potential. With virtualisation it's easy to run your web server, database server, and file server on one machine at no extra cost. This allows you to make the most of your server's available resources for true cost efficiency.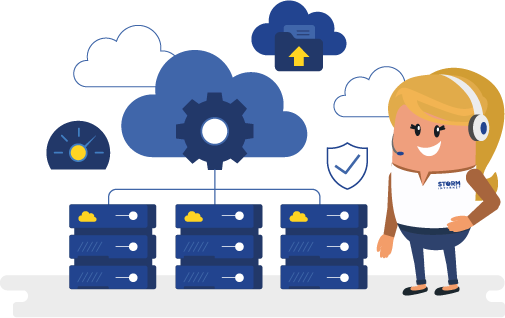 VLANs & VPNs
With a high-speed VPN between your servers, remote workers can get secure access to local network resources. Add servers and other network resources wherever they're hosted to create a secure virtual LAN environment. All proactively managed and maintained by your dedicated Storm Support Pod.
Get started
Choose a Storm dedicated server. (Can't decide? Ask our solution architects for expert advice.)
Get started
More reasons to host with Storm
| | |
| --- | --- |
| | ISO 27001 and 9001 certified |

| | |
| --- | --- |
| | Powered by 100% renewable energy |

| | |
| --- | --- |
| | 100% network uptime guarantee |

| | |
| --- | --- |
| | 24/7 Proactive server uptime monitoring |

| | |
| --- | --- |
| | Managed backups & restorations |

| | |
| --- | --- |
| | Managed security & software patching |

| | |
| --- | --- |
| | Free agent - You're never bound to our platform |

| | |
| --- | --- |
| | Dedicated hardware resources |

| | |
| --- | --- |
| | DDoS Protection & Threat Management |

| | |
| --- | --- |
| | PCI DSS-compliant servers |

| | |
| --- | --- |
| | 24/7/365 access to our server experts |
FAQ: Dedicated Servers
Dedicated server: A dedicated server is a physical server installed with your choice of operating system and, if necessary, the applications you'll need (e.g. IIS, SQL Server, and Exchange). You choose the server specs when you sign up. This includes CPU, disk space, and memory, all of which can be upgraded or downgraded (requires the server to be powered down). Importantly, with a dedicated server you enjoy complete privacy and control over the server.
Virtual Private Server (VPS): Dedicated servers can be powerful machines – sometimes too powerful for all those valuable resources to be used efficiently. This is an old problem in the computing world, which is why virtual private servers (VPSs) were created.
With the use of virtualisation software on your dedicated server, you can create multiple VPSs, each running a different workload. Each VPS can have its own operating system and operate isolated from the host system and other VPSs. The number of VPSs you can run at the same time depends on how much of the available resources of your dedicated server has been allocated to a virtual machine.
Cloud server: A cloud is created by pooling the resources of different physical servers together. When a cloud server is created with virtualisation software, a portion of these resources are assigned to the cloud server.
Much like a VPS, a cloud server is isolated from the host system and other cloud servers. It can also run its own operating system. But, compared to dedicated servers, cloud servers have two distinct advantages:
Cloud server resources can be scaled up or down on-demand. The physical servers hosting the cloud server do not have to be powered down.
Where a dedicated server may experience downtime when a hardware component fails, cloud servers won't go offline when a drive fails or an entire server goes offline
Shared hosting: Shared hosting is often regarded as an entry hosting tier. This is a physical server or cloud server divided up among 'tenants' which share the server's resources. Hence the name.
Shared hosting comes with a fixed amount of computing resources (CPU, disk space, and memory), and you'll have to share the server's IP address with other sites on that server. Hosts will typically provide access to a control panel interface from which the hosting account can be managed.
Shared hosting is a good option for starter sites and personal blogs that won't need much in terms of resources or custom software components.
Self-managed: As the name implies, you manage your dedicated server yourself. Access your dedicated server via SSH (Linux / Unix), a remote desktop utility (Windows), or a control panel application provided by your host.
With a self-managed dedicated server comes the requirement that you are intimately familiar with your server's operating system. You're also in charge of your server's security, which may require use of firewalls, intrusion detection systems, and keeping your software up to date.
Fully-managed: A fully-managed server is managed entirely by the host. If you get a fully-managed dedicated server from Storm, you're assigned a team of six dedicated engineers who deliver end-to-end management. Everything from security to uptime and backups are covered, with additional services optionally included as defined by your support plan.
Fully-managed dedicated servers are ideal for individuals and organisations who may not have the necessary technical expertise to manage a server themselves, or who'd rather focus those in-house skills on mission-critical tasks.
Where shared hosting refers to multiple tenants on a single server, dedicated servers are single-tenant servers delivering more stability and exclusive use of all hardware resources to power your apps, sites, and services. Businesses like yours use dedicated servers because of these benefits:
Control: It's your server on hardware dedicated to you. This means the entire server – both hardware and software can be customised to fit your requirements.
Security: Dedicated servers deliver single-tenant privacy and its associated benefits which includes improved security since your server can't be compromised by other tenants.
Resources: Another benefit of a single-tenant server is that all available resources are entirely dedicated to you.
Scalability: Dedicated server resources can be added, removed, upgraded or downgraded as required. The only downside is that, unlike cloud servers, you may have to power down your server to make the necessary changes.
You can run any operating system on a dedicated server as long as it can still run on the hardware – one reason why dedicated servers are ideal for legacy applications. However, not all operating systems are supported or still receive security updates. As such, if you're running legacy applications, it might be better to use a VPS on the dedicated server.
Some of the most popular operating systems for dedicated servers include:
Windows Server: Microsoft's server operating system, which is commonly used for web hosting and can run a variety of applications, including IIS, SQL Server, and Exchange.
Linux: An open-source operating system that is popular among web developers and system administrators. Some popular Linux distributions for servers include Ubuntu, Debian, and Red Hat Enterprise Linux.
CentOS: It is a community-driven free and open-source operating system derived from the sources of Red Hat Enterprise Linux (RHEL).
FreeBSD: An open-source operating system based on the Berkeley Software Distribution (BSD) Unix. It is known for its stability and security.
Don't just take our word for it
Join the hundreds of happy retailers & brands that use Storm Internet