Run your websites, email, and apps with unparalleled reliability and performance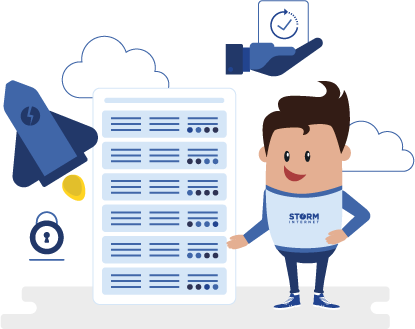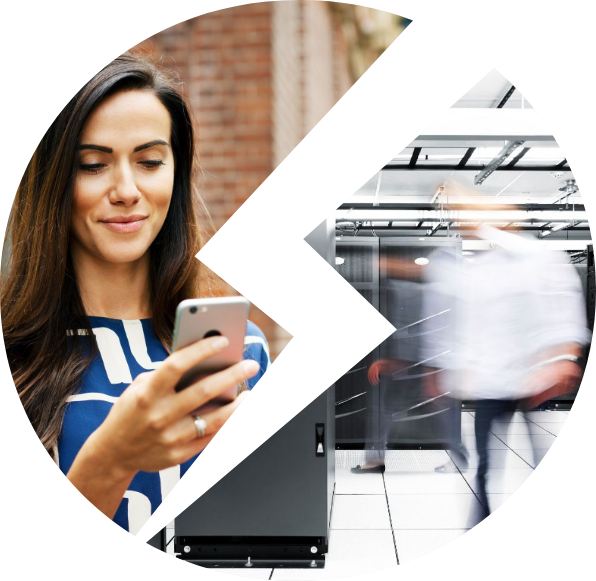 Simplified full-power cloud hosting
Launch your website, app, or database on Storm's robust cloud platform. All Storm servers are equipped with super fast SSDs (optional NVMe storage available) and can be scaled to meet your requirements.
Robust server and network redundancies
Global public cloud, private cloud, and dedicated server hosting locations
100% Network uptime guarantee
Monitored 24/7 by your own dedicated Storm Support Pod
100% Green hosting
Includes quarterly SecurityMetrics PCI external vulnerability scans
Get started
Host your next business venture
We love forging personal relationships with our clients. It helps us deliver old-school customer service that stays with you every step of the way. With Storm you can work without worrying about hosting overhead like security, staying online, or backups. We've got you covered, 24/7.
Get no-limits hosting for your websites with all the features and resources you need for rock-solid long-term growth. With Storm, your hosted data is protected by reinforced security which means better compliance and more trust from your visitors. We'll also keep an eye on your site's performance to keep it ready for action 24/7.
Stable, cost-effective, and secure application hosting. We'll help you design and deploy the ideal hosting environment for your app to get you from prototype to production to digital greatness. Need help with daily maintenance? Our tech teams become yours with your custom monitoring and maintenance instructions.
Run your databases in a resilient high-performance cloud environment built to deliver peace of mind and cost-efficiency. Superb scalability matches the needs of mission-critical implementations at every turn, while 24/7 proactive human monitoring keeps you on track day and night.
Get business email from major vendors, or host your own. Storm's cloud-based business email covers everything from needs analysis and vendor selection to installation and continuous post set-up support.
With Storm's 22 Trees campaign we're planting two trees every year for every virtual server created. For private cloud and dedicated servers, we'll calculate the upper-limit emissions of your hardware and plant the number of trees required to offset its emissions. Keep an eye on your inbox for your more:trees certificate which proves that, somewhere out there, your two trees are offsetting more than your virtual server's share of carbon emissions.
Every Storm dedicated and virtual server receives quarterly SecurityMetrics PCI external vulnerability scans as standard, with your dedicated Storm Support Pod working behind the scenes to keep your servers PCI compliant. With Storm everything's fully managed, distraction-free, and cost-effective – it's the head start you've been looking for.
What's different about hosting with Storm?
Since you're always online, backed up, and protected against the newest threats, you'll only have to think about making the most of the road ahead.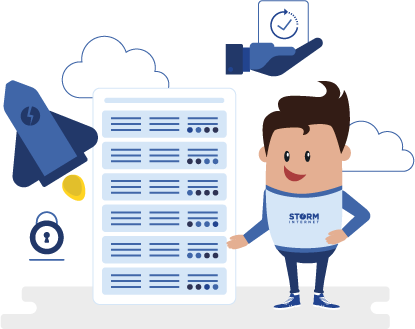 No More Tech Worries
Our Quality Management System is independently ISO 9001 certified, which means we care about your sites, applications, and databases as much as you do. Tell us what's important and we'll dedicate a specialist team to take care of anything that might slow you down.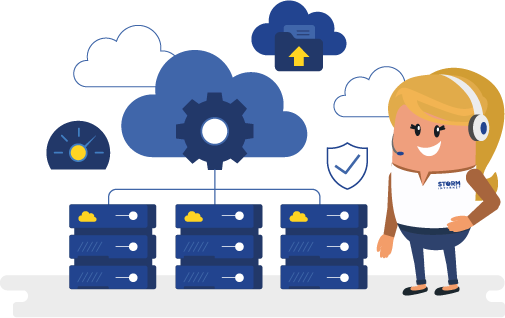 Managed Security
We didn't stop with ISO 27001 certification that delivers top-notch security with every service we deliver. We've gone the extra mile to protect your data with the same cutting-edge tech that protects our own. And with full access to the Storm Security Centre you'll be a step ahead of the latest threats and compliance requirements.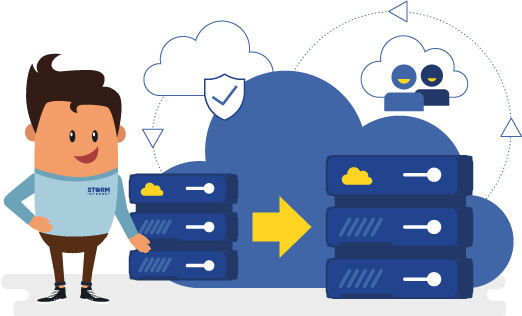 Managed Backups
Choose your daily, weekly, monthly, or custom backup schedule. We'll set it up, verify each backup, and wrap it in industrial-grade encryption.Need a quick restore? On-demand full and partial restores by qualified Storm engineers will slash downtime and data loss.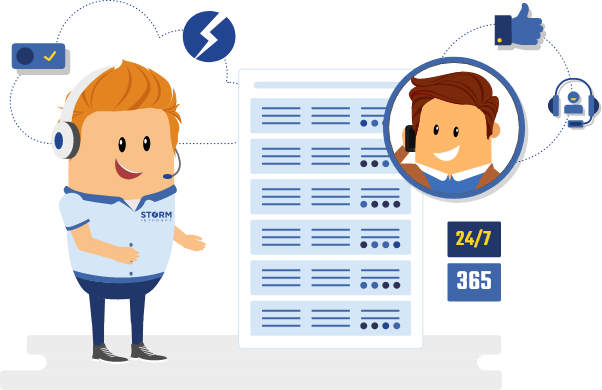 A Personalised Service
We're with you for the long haul from the moment you sign up. Share your ideas and goals, and we'll work with you to make them happen – even if we have to invent new solutions or bend the rules. These aren't just fancy words; our one-on-one commitment to our clients is demonstrated through our various awards.
For expert advice freephone: 0800 817 4727
Case Study
From the offset, Storm took the time to understand our problems and gave us confidence they could provide solutions to our issues. We've not been disappointed.
Elliot Price
Elizabeth Shaw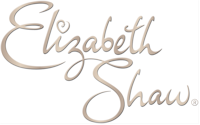 Read More
Don't just take our word for it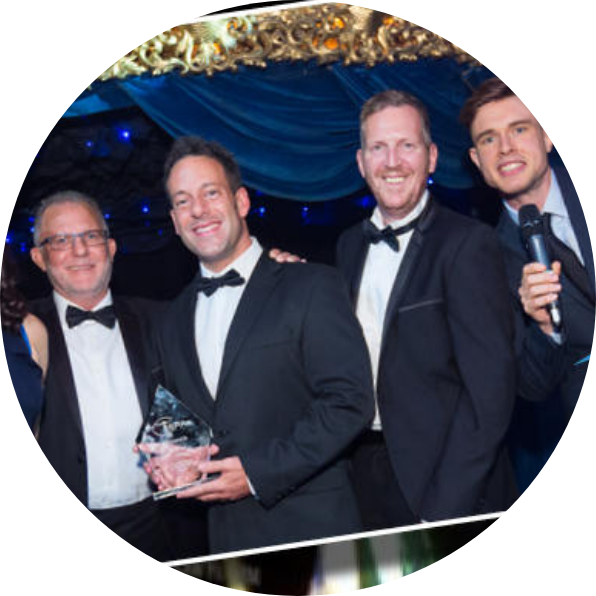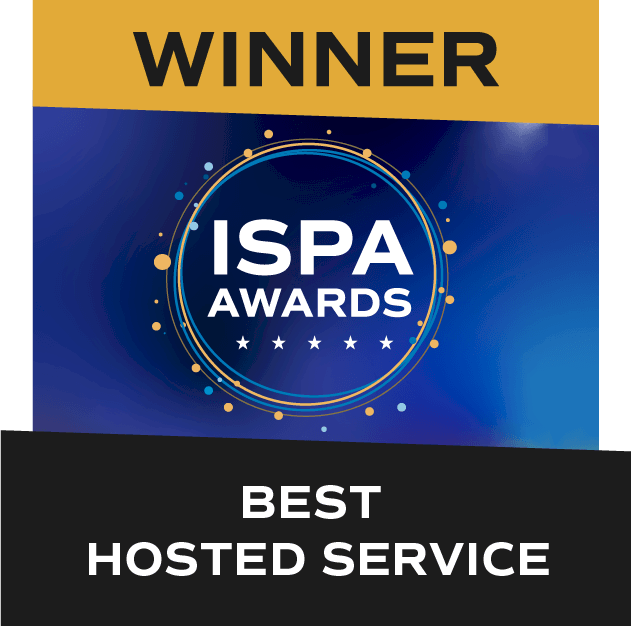 Storm Internet wins Best Hosted Provider at 22nd ISPA Awards
Over the years Storm Internet has collected a number of awards. They reflect a core methodology by which we empower our clients by providing them with the technology and tools they need to accomplish their goals efficiently.
Read More