Managed Cloud Servers
High-availability fully managed cloud virtual servers for any type of workload
Get started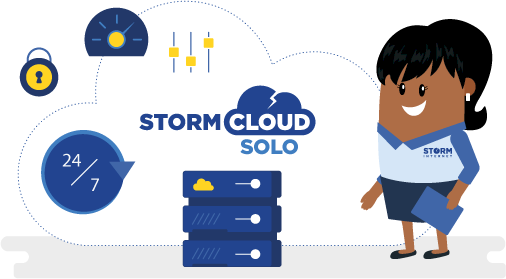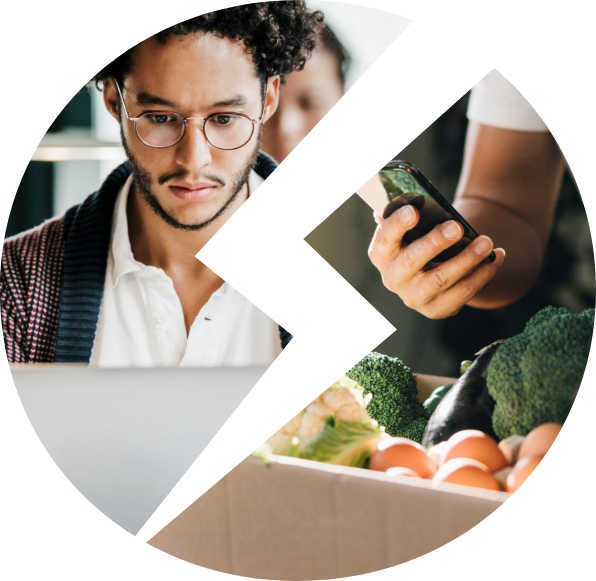 Less work. More power.
StormCloud Solo is a super fast and reliable cloud-based virtual server. It's fully-managed, which means things like backups and security are managed by us. And with 24/7 support from your dedicated Support Pod, we're always available to lend a hand and answer your questions.
Choose a StormCloud Solo virtual server
We've got a virtual server for every type of workload. Need a custom-spec server? Ask us.
StormCloud S1
Entry
£49.99/mo
2 vCPU Cores
4GB RAM
40GB SSD
High Availability Cluster
UK based hosting
Inc. cPanel, Managed Security & Backup
Order Now
StormCloud S2
Mid-range
£99.99/mo
4 vCPU Cores
8GB RAM
100GB SSD
High Availability Cluster
UK based hosting
Inc. cPanel, Managed Security & Backup
Order Now
Custom build
Tell us what you need
from £49.99
2 - 16 vCPU Cores
4GB - 64GB RAM
40GB - 500GB SSD
High Availability Cluster
Get in touch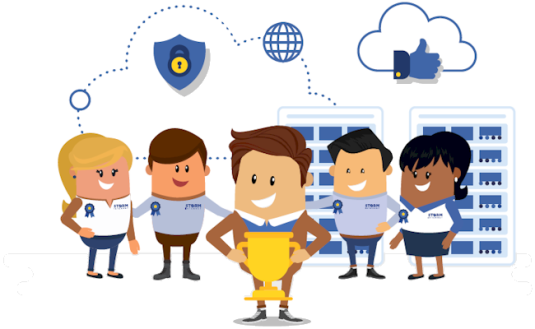 We work as your extended team
Switch to Storm and get your own dedicated 24/7 Support Pod of 6 engineers. You'll always speak to someone you know, and you won't have to explain your setup from scratch. Each member of your dedicated Support Pod will be intimately familiar with your setup and the way you run things.
Learn more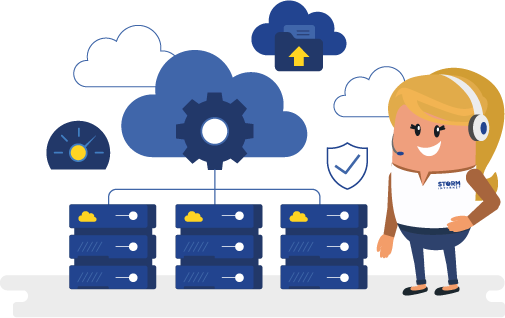 Fully-managed server security
Your dedicated Storm Support Pod will manage the security of your StormCloud Solo virtual server. This includes update and patch management, firewall management, and 24/7 monitoring for suspicious activity. Quarterly PCI external vulnerability scans complete with audit trail are fully-managed, meaning your server will always be PCI-compliant and you'll have the badge to prove it.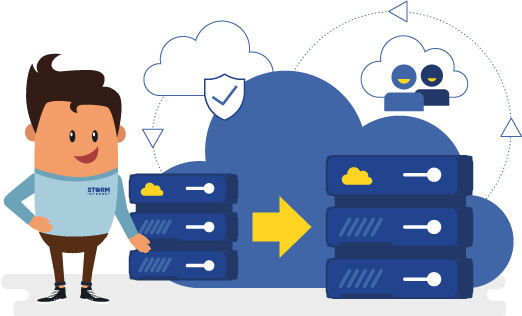 Free zero-downtime managed migrations
Move to Storm without worrying about downtime or data loss. Every migration is carefully planned by a solution architect to cater for every level of complexity. Whether you're migrating existing cloud-based infrastructure to Storm or your on-premise infrastructure to the cloud, we'll deliver a seamless, hassle-free experience.
Learn more
Here's why businesses choose StormCloud Solo
StormCloud Solo delivers superior flexibility on a robust hardware platform. Plus, it's 100% green.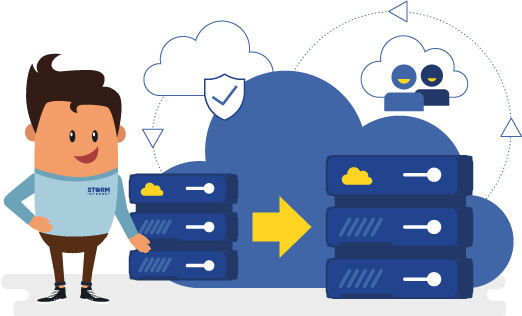 High-availability mirroring
Unlike a standard Virtual Private Server (VPS), our cloud servers pool two or more physical host servers together to create a high-availability cluster with no single point of failure. Data is replicated across all servers at super fast speeds of up to 100GB/sec.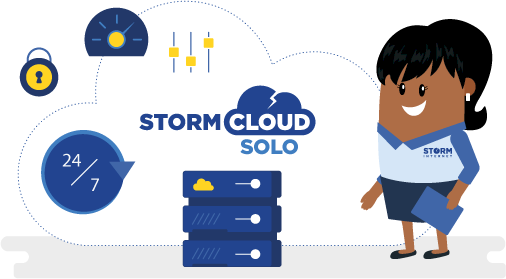 Scalable
On-demand scaling makes it easy to adjust your virtual server's performance. Just point and click to add more processing power, memory, and storage. With usage-based pricing you'll always know exactly what you're paying.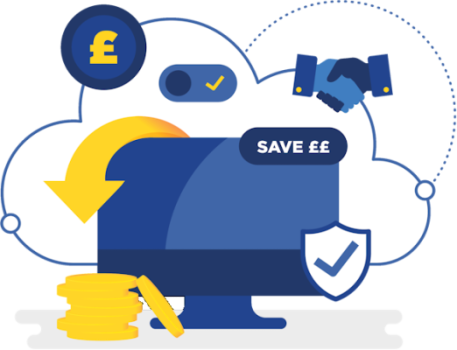 Fixed-cost pricing
At Storm there are no hidden fees, penalties, or illegible fine print. What you see is what you get, which means predictable pricing you can easily work into your budget.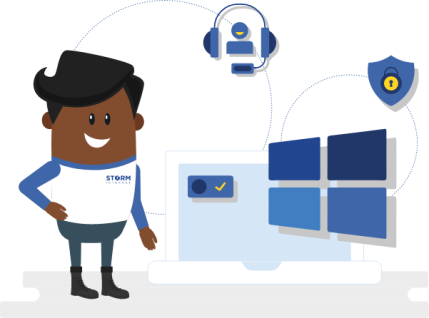 Operating System Freedom
Choose between Windows or Linux to power your virtual server. All currently supported versions are available, giving you the freedom to run your apps and sites in the ideal OS environment.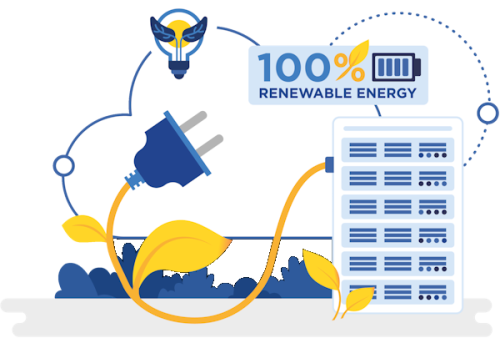 100% renewable energy
Even though all our servers are powered by 100% renewable energy, we thought we could do a little more. So we partnered up with more:trees to plant two trees per year for every virtual server created. Plus, you get a neat little certificate as proof.
No more hosting headaches
With your dedicated support pod working as your extended team, all the hosting overhead is taken care of. With a StormCloud Solo virtual server the road ahead is easier.
Get started
More reasons to host with Storm
| | |
| --- | --- |
| | ISO 27001 and 9001 certified |

| | |
| --- | --- |
| | Powered by 100% renewable energy |

| | |
| --- | --- |
| | 100% network uptime guarantee |

| | |
| --- | --- |
| | 24/7 Proactive server uptime monitoring |

| | |
| --- | --- |
| | Managed backups & restorations |

| | |
| --- | --- |
| | Managed security & software patching |

| | |
| --- | --- |
| | Free agent - You're never bound to our platform |

| | |
| --- | --- |
| | Dedicated hardware resources |

| | |
| --- | --- |
| | DDoS Protection & Threat Management |

| | |
| --- | --- |
| | PCI DSS-compliant servers |

| | |
| --- | --- |
| | 24/7/365 access to our server experts |
FAQ: Cloud Servers
At its simplest, the cloud refers to any number of physical servers connected to each other to function as a single unit. Storage space, processing capacity, and memory – all the resources a server needs to operate – are pooled together. Virtualisation software is used to allow users to create virtual servers and other virtualized infrastructure. It is also responsible for assigning a portion of the pooled resources to each unit of virtualized infrastructure.
Virtual servers reside in the cloud, but have the functionality of a physical server. This means you get a fully-fledged operating system and networking components in addition to computing resources (processing power, memory, and storage space) – everything you'll need to store files, run a website, or perform complex calculations and analytics.
Cloud servers are fault tolerant. Cloud servers are more resilient than on-premise physical servers because your data isn't stored on any one single physical server. When one server fails, another takes its place without any interruption to your service.
Cloud servers are cost-effective. An on-premise physical server can set you back hundreds or even thousands of pounds. You're also responsible for hardware maintenance costs and cost of labour to keep the physical server maintained. A cloud server, by comparison, is very affordable since you only pay for the virtual server and resources you are using. It is up to the hosting provider to maintain the hardware.
Cloud servers speed up workflows. Assembling, installing, and configuring an on-premise physical server can take hours, if not days. In contrast, cloud servers can be created in a few seconds. Once fully configured, you can save the entire cloud server as a template for future cloud servers. As an added bonus, cloud servers can be destroyed in a few clicks when not needed anymore – no excess hardware that takes up storage space.
Cloud servers lower your energy bills. On-premise physical servers are built to be very energy efficient. As such the biggest power consumption is not incurred by the server itself, but by the energy required to keep the server cool. With a cloud server the costs for running and cooling the physical servers are the responsibility of the service provider.
Cloud servers can be better for the environment. Depending on where you host, your cloud server can help lower your organisation's carbon footprint. At Storm, for example, all our servers are powered by renewable energy. Plus, through our 22Trees campaign, we'll plant two trees every year for each one of your cloud servers to further reduce your overall carbon footprint.
Cloud servers can be used to replace on-premise physical servers, which means you can use them for just about anything. Here are a few ideas:
File storage. Concerned about privacy when storing your files on public services like Google or Dropbox? Or perhaps you just want more control. Turn your cloud server into a file server using open source software. It's your server, your files, your rules. For pre-built high-performance file sharing see: Secure Shared Network Drives
Web server. Arguably one of the most common applications of cloud servers is to host websites. Unlike shared hosting, you have full control over the server, and you can easily scale resources (disk space, memory, and even CPU) to match your needs.
Mail server. Use your cloud server to run your own mail server. This can be beneficial to organisations who have specific requirements in terms of the emails they send and receive (e.g. spam filtering, country blocking, etc.) or that have specific compliance needs.
Database server. Cloud servers can be used as database servers for applications and websites that handle large amounts of database transactions. Since cloud servers are available for Windows and Linux operating systems, you can run any database management system that meets your needs. Storm provides purpose-built database servers for:
We know running your own cloud servers can be time-consuming and complex. Not only do you have to manage your app or website, but you also have to take care of the operating system and security.
Storm's cloud servers are fully-managed by default. This means you get the server without any of the technical overhead. Whether you need a cloud server to run one or more websites, or a mail server for secure email communication, it's all fully-managed by Storm.
The security of any server – whether an on-premise physical machine or cloud servers – depends on the security measures put in place to protect it. This means that security ultimately comes down to who is in charge of the server, and how serious they are about security. We're very serious about protecting our customers against threats, which is why we go the extra mile to deliver ironclad protection:
Quarterly fully-managhed PCI vulnerability scans
Every Storm server is subject to thousands of security checks before deployment
Hardware and software firewall protection
24/7 Surveillance by Storm and data centre NOC teams
Multilayer physical security at Storm data centres
Cloud servers provide the added benefit of running on separate networks from users' workstations. This is especially important given that attackers often gain access to networks by compromising user workstations through phishing campaigns.
Don't just take our word for it
Join the hundreds of happy retailers & brands that use Storm Internet