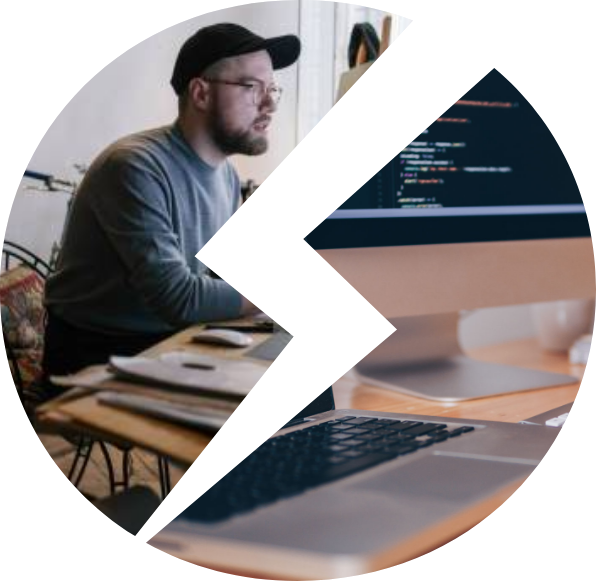 Performance and security on a stable hosting platform
There is a better way to spend more time building data-driven applications and rich user experiences. Storm's fully-managed SQL Server hosting delivers an award-winning platform that's robust, super secure, and scalable. You'll never have to worry about server maintenance tasks like security, updates, and patches because it's expertly managed while you're moving forward.
Choose your SQL Server hosting package
All Storm servers are equipped with super fast multi-carrier low-latency connections and a 100% network uptime guarantee. Got a custom server requirement? Ask us
StormCloud MSSQL
Cloud-based SQL Server hosting with scalable power
£99.99
(ex. VAT) per month
4 vCPU, 4GB RAM & 40GB SSD space
Fully managed server security
Order Now
Custom build
Tell us what you need
from £49.99/mo
Custom configuration
Host 1 - 100+ SQL Server databases
Get in touch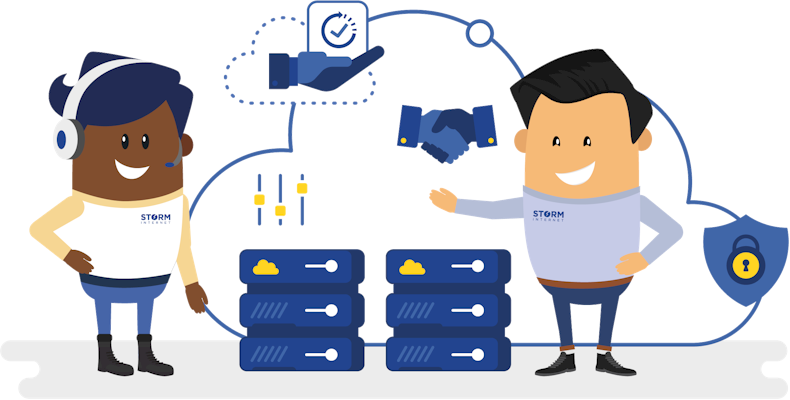 Fully managed support & 24/7 security
With Storm you get a 24/7 team of six engineers dedicated to delivering expert assistance and protecting your data. We're big on being proactive, which means we're running audits and zealously scanning and fixing potential vulnerabilities to keep your server PCI compliant and you working with complete peace of mind.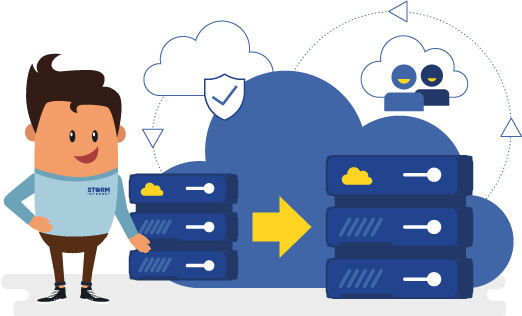 Free migrations
Switching to Storm is effortless and easy. Whatever the size and scope of your SQL Server estate, your migration is meticulously planned by experienced solution architects to ensure a seamless, pain-free switch to Storm.
Learn more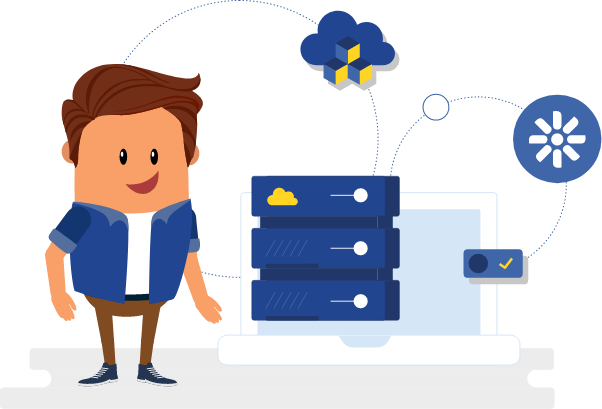 Secure Remote Management
Use MS Access, SQL Server Management Studio or your GUI of choice to develop and manage your SQL databases – whether you're at work or working remotely. Access to your SQL Server instances and databases are restricted to the individuals and locations you trust, making it easy to develop, automate, and debug without worry or distraction.
And we're 100% green too
We proactively monitor our CO2 emissions and adjust our tree planting activities to offset more emissions than we produce. When you purchase a hosting solution or server from us you can be confident that you too are investing in the environment and a greener future for all.
Find out more
Why people choose Storm for SQL Server hosting
Since 2004 we've been helping our customers overcome hosting challenges with perfect-fit cloud solutions. Get your SQL Server hosting from Storm and we'll also take care of maintenance and security, and deliver 24/7 rapid support to eliminate distractions on the road ahead.
We've eliminated all the technical barriers to SQL Server hosting with a dedicated solution architect focused on your long-term goals, budget preservation, and operational efficiency. Every tailored solution is designed to be secure, compliant, and includes end-to-end support by a dedicated team of engineers.
75+ Global hosting locations
Host where your customers are at any of our 75+ global hosting locations. Storm Internet's data centre partners are ISO-accredited and specialise in building and managing top-tier data centres. We thoroughly vet all our data centre partners for security and financial viability to deliver continuous service stability to our customers.
We're independently ISO9001 (Quality Management Systems) & ISO27001 (Information Security) certified. This means every Storm solution is designed according to strict standards that delivers robust reliability and cutting-edge protection of your hosted information.
All Storm hardware is subjected to more than 45,000 vulnerability scans before deployment, while 24/7/365 human and AI surveillance and multi-layer network security guards our infrastructure. Storm dedicated and virtual servers receive quarterly SecurityMetrics PCI external vulnerability scans. Any red flags detected during scans are automatically addressed by your dedicated Storm Support Pod. Optional certification for individual websites is also available.
We're with you for the long haul from the moment you sign up. Share your ideas and goals, and we'll work with you to make them happen – even if we have to invent new solutions or bend the rules. These aren't just fancy words; our one-on-one commitment to our clients is demonstrated through our various awards.
FAQ: SQL Server Hosting
SQL Server hosting packs a punch with an array of features that can benefit any use case. We'll highlight some of the most popular benefits below. Feel free to check out the SQL Server version comparison table here.
Scalability: SQL Server is a data platform capable of handling high volumes of data while remaining performant. It facilitates horizontal scalability, which essentially means that data can be hosted across multiple databases. Similarly, data can be stored in a single central database and be accessed by multiple SQL Server instances. Perhaps one of SQL Server's most attractive features is that queries can be run across an entire data estate.
Security: In addition to database encryption, SQL Server comes with two built-in levels of access control protection. With server-level access control users are authenticated against a database built into Windows. Database-level access control refers to users in the SQL server database. It is with the latter that security becomes granular, capable of being applied across individual data objects. SQL Server also comes with monitoring capabilities and alerts – not only for identifying suspicious activity but to highlight security gaps and misconfigurations.
High Availability / Failover: SQL Server comes packed with features that ensure availability during planned or unplanned outages. These include AlwaysON Availability Groups, Replication, Log Shipping, Mirroring, and clustering. Take note that not all high availability / failover features are available with all SQL Server editions.
In recent years Microsoft SQL Server has evolved to become a data platform that not only includes database management, but also intelligence, security, and AI. Its most common uses include the storage and manipulation of data, which can be used to power applications and efficiently manage business data. It can also be used to extract business intelligence from stored data to help decision-makers react to changing business situations.
In practice, SQL Server is used to store and fetch data needed by websites and applications. Easy integration with other Microsoft products and technologies delivers the means to work efficiently across different platforms. These include applications using Microsoft's .NET Framework, Visual Basic applications, Microsoft Excel and Microsoft Access, Microsoft Dynamic CRM, and many more.
Storm's SQL Server hosting powers these applications and delivers the security and performance needed to ensure that businesses can access their data securely and efficiently. A redundant hosting infrastructure ensures the high availability of SQL Server assets, delivering enterprise business continuity.
Storm's SQL Server hosting is on Windows servers purpose-built to deliver security, high availability, and performance. All supported versions of Windows Server are available:
Windows Server 2022
Windows Server 2019
Windows Server, version 1809
Windows Server, version 1803
Windows Server, version 1709
Windows Server 2016
In recent years SQL Server hosting has also extended to Linux, with SQL Server 2017, 2019, and 2022 currently supported. Installation on a Linux server requires at least 2GB RAM, 6GB disk space, and a 64-bit 2 GHz processor with at least 2 cores. SQL Server is available for the following Linux-based operating systems / platforms:
Red Hat Enterprise Linux 8.0 – 8.6 Server
SUSE Enterprise Linux Server v15 (SP1 – SP3)
Ubuntu 20.04 LTS
Docker Engine 1.8+ on Linux
If you run a website or application that runs in a Windows-based environment (e.g. Umbraco) or use technologies native to Microsoft (e.g. ASP.NET), chances are you'll need a SQL database to store information.
But it doesn't necessarily mean you need separate SQL Server Hosting to run your application or website. Traffic is a great indicator of the type of hosting you'll need:
Low-traffic sites and applications: If you're just starting out and working your way up the ranks, chances are you won't need SQL Server Hosting on a dedicated server. Instead, shared hosting on Windows might be more suited to your computing requirements and budget. This is lightweight hosting that includes everything (including SQL Server) you'll need to get started. Once you're bringing in enough traffic, you can opt for SQL Server hosting.
Medium to high volume traffic / advanced SQL Server features: You've got thousands of visitors flocking to your site, or you have applications and sites that use advanced or enterprise features of SQL Server. Shared hosting won't cut it, which means SQL Server hosting may be a better option.
If you're unsure about what you need, get in touch for free expert advice.
Hosting your SQL Server on-premise has its advantages. You've got full control over the hardware running your SQL Server, and access to the server may not be dependent on whether your internet connection is up or down. And if your internet connection is capped, you may save a bit on internet costs.
But that's pretty much it. For many businesses off-premise SQL Server hosting makes sense. Here's why:
Reduced hardware costs. The hardware is owned by the service provider, which means they also have to maintain it.
Reduced power costs. Running servers can be power-intensive, with the bulk of the cost going to cooling. These costs are typically absorbed by the host. Another benefit here is that your host likely uses renewable energy to power the hardware your SQL Server is hosted on, which might be harder to achieve with on-premise hosting.
Redundant connections. Sure, hosting your SQL Server on-premise might be more convenient in terms of access. But if your internet connection drops remote visitors and users won't be able to connect. SQL Server hosting is typically done on redundant infrastructure, which means if one component fails, another takes its place without any service disruption.
Frees up internal teams. On-premise SQL Server hosting is typically maintained by internal teams. Off-premise SQL Server Hosting is usually supported by the hosting company.  This can help free-up internal resources to focus on mission-critical tasks and objectives.
Simplified compliance. Regulatory compliance and the cost of remaining compliant are important, especially for businesses and organisations that operate in regulated industries. On-premise hosting requires that compliance be maintained internally. With off-premise SQL Server hosting, the onus of compliance (where the hosting environment is concerned) is the responsibility of the host.
Better physical security.  Given the value of equipment and data stored in data centres, they often come with security measures that may seem over the top in other settings. Storm's data centres, for example, are protected with multi-barrier access controls, biometric access controls, manned security stations, 24/7 CCTV, and so on. Whether you've got SQL Server hosting or any other type of service with Storm, only authorised personnel will ever gain access to the physical machine.
Don't just take our word for it
Hundreds of happy retailers & brands use Storm Internet