Awards
Storm Internet wins Best Host and Best Cloud Service at ISPA Awards 2017 | Storm Internet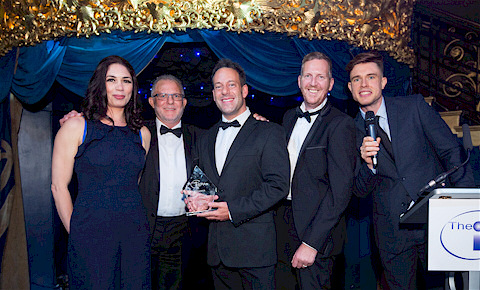 Storm Internet are delighted to announce they have been awarded Best Host 2017 and Best Cloud Service 2017 at the 19th Annual UK Internet Industry Awards, hosted by the Internet Service Providers' Association (ISPA) at the Café de Paris in London on 13th July 2017.
The ISPA Awards are a celebration of the diversity of the sector and provide an opportunity to reflect on a significant twelve months, including the passing of the Investigatory Powers Act, increased investment in broadband networks and rollout, high profile cyber-attacks, online safety and more.
This year's gala ceremony saw submissions and entries that truly reflect the breadth, quality and innovation of the ISP industry. Launched back in December, fifty-eight companies and organisations were nominated across 17 categories. The scores of entrants were whittled down through a combination of technical testing and an expert panel of judges.
Storm Internet was short-listed for four categories – Best Business Customer Service, Security Award, Best Host and Best Cloud Service – having won the latter two which were some of the most hotly contested and prestigious of all of the night's awards.
For the Best Host award, the judges were particularly impressed by Storm Internet's "Custom Escalation Procedures", encryption and sustainability through offsetting carbon emissions. They sighted offering value for money with innovative pricing, free content distribution network and a modern virtualisation policy as the deciding factors that won the Best Cloud Service award, which Storm Internet now retains for the third year running.
Salim Benadel, CEO and founder of Storm Internet: "Every year the bar is raised at the ISPAs and the quality of competition this year was immense. Being up against some of the leading industry players, I'd say that this truly is a testament to our focus on innovation and desire to offer the most comprehensive yet flexible enterprise grade cloud solutions at prices affordable to SMEs. We view every customer's requirements as unique and shape a solution around their needs. This is what makes us different and we're absolutely delighted and honoured to be recognised for our work by the ISPAs through these two prestigious awards."
About Storm Internet
Storm Internet specialise in providing fully managed cloud and hosting solutions to SME businesses. Founded in 2004, they have helped thousands of SMEs to grow their businesses online, by providing them with a world-class infrastructure to run their websites, business emails, business applications and much more.
With a deep understanding of how important a reliable managed hosting company is, Storm Internet are one of the only hosting companies in the UK who focus solely on providing affordable hosting solutions to SMEs. The company has developed a unique 7-step process to not only ensure SMEs get the right hosting for their needs but to also ensure often forgotten services such as cyber-security, backup and support are all in place, so customers can enjoy peace-of-mind and absolute business continuity. All of Storm Internet's products and services are backed by 24/7/365 support, a unique total security package, tailored support SLAs, offer best value for money and are hosted 100% in UK datacentres.
For more information contact:
Charlotte Scadeng
[email protected]
www.storminternet.co.uk
Speak with a Storm Expert
Please leave us your details and we'll be in touch shortly