Awards
Storm wins 2016 ISPAs for making enterprise Cloud platform affordable to SMEs | Storm Internet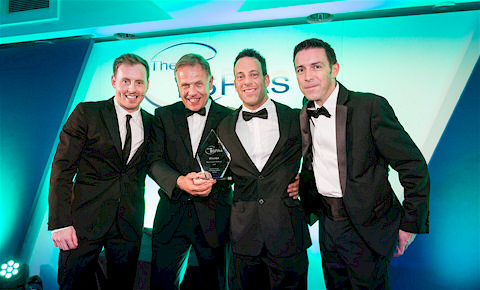 Storm Internet Ltd. has won the Best Cloud Product Award at the 18th Annual UK Internet Industry Awards, the ISPAs. This is the fourth consecutive win for the Oxfordshire-based hosting company in as many years, at an event which sees SME-sized companies competing against global telecoms giants.
The longest running and most prestigious event of its kind in the UK, this year's ISPAs where held at The Brewery in the City of London. Seventeen awards were presented, each more hotly contested than the next in what is fast becoming one of the UK Internet Industry's top awards ceremonies.
"Being named category winner has a bit more significance each year because of the increasingly stiff competition. We're seeing more companies of all sizes going beyond the call of duty to improve and advance Internet product and service delivery," says Storm Internet Founder and Managing Director, Salim Benadel."
Storm Internet's newest show of innovation, StormReflex, is what helped the company to victory. StormReflex delivers seamless cloud-based business continuity, even in the event of complete hardware, power, and connectivity failure. This is achieved by mirroring an entire cloud infrastructure onto identical hardware at a secondary independent site. In a disaster scenario traffic is instantly routed to the secondary site, preventing data loss and downtime.
"This is quite an important strategic win for us. Advanced cloud solutions with increased reliability and redundancy are becoming a vital part of day-to-day business. Receiving recognition for a product that delivers on these requirements while remaining affordable puts us in a position to provide more businesses with greater peace of mind," Benadel continued.
"Cloud is generally believed to be immune against most tech failures, which may be true if you're a giant multinational with vast resources backing an incredibly redundant infrastructure. StormReflex, however, puts that same kind of resilience in the hands of your average small business at a fraction of the expected cost."
Much like the company's other products, StormReflex is backed by high-level 24/7/365 support – a hallmark of the Storm Internet service and product offering.
In what is deemed to be an unusual achievement on its own, Storm Internet was shortlisted for each of the categories it entered into this year. These included Best Dedicated Hosting, Security, Best Business Customer Service, and the newly added Best Cloud Product category.
Previous wins for this growing hosting company include the "Best Business Use of Cloud" award and a nomination for "Best Business Customer Care" in 2015, the "Best Dedicated Hosting" award in 2014, and the "Best SME Business Hosting" award in 2013.
In 2015 Storm Internet was voted runner-up to Time-Warner owned company Navisite in the "Co-location/Hosting Provider of the Year" category at the SVC awards in London. 2014 saw Storm Internet listed among Cloudscape UK's leading infrastructure as a service (Iaas) providers by independent market research and consulting firm The METISfiles.
Speak with a Storm Expert
Please leave us your details and we'll be in touch shortly