eCommerce & Marketing
Ecwid Plugin Now ready to deliver Hassle-free Ecommerce benefits for your Website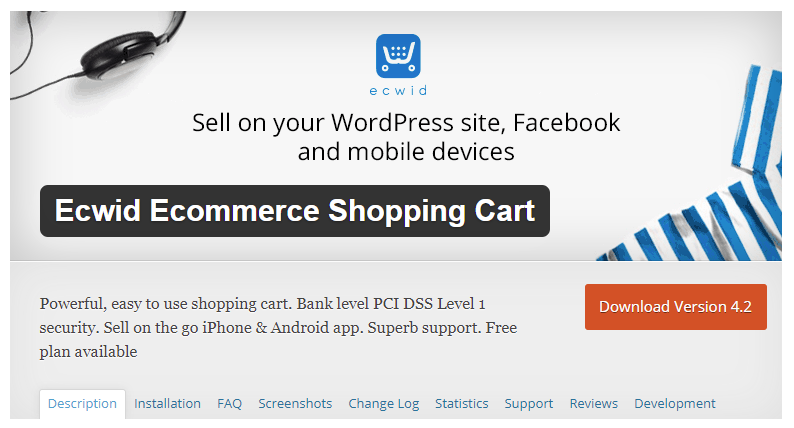 Your WordPress websites have now been gifted with an awesome new plugin by Ecwid. This new feature will let website owners add in ecommerce-based features to their websites. WordPress's exemplary content management system tactics accompanied with Ecwid's advanced yet easy-to-use ecommerce features will endorse the system to a whole new level.
Ecwid came up in the year 2009, and it has since helped ecommerce website excelled to new levels. The vision was to help out businesses that wanted to start online stores for selling products. Moreover, this online platform has featured impressive tools such as tax automation and ShopApp. Now, with the developers working on improving the WP sites, the addition of Ecwid will let us know how well the upgraded system functions.
WordPress has been one of the most reputed CMS platforms that offer convenience and flexibility. Third-party tools and plugins can be installed in its system to create better websites and tools. Ecwid WP plugin has also been added now to create a convenient extension for the ecommerce features.
Being a responsive platform makes it a great option as stated by the developers behind its modification. Plus, it is a cost-effective solution compared to other ecommerce platforms present today.
According to sources, the best feature of Ecwid is its flexible approach. The plugin can be easily integrated into any WP website. But, that is not all. Users can also use it for any site other than WordPress. Joomla and Drupal platform sites can also find this awesome ecommerce plugin for their system. Even social networking sites like Facebook and Twitter can be integrated with this tool at the same time.
In short, you get all the Ecwid features accessible through this plugin tool created for websites. A number of notable features possessed by Ecwid are mentioned below:
Those features include:
1) Responsive layout
2) Personalised accounts for customers
3) Product selectivity
4) Installation can be done in minutes
5) Product catalogues and Sleek interfaces
6) Smart shipping calculator
7) Various integrations for POS system
8) Automatic detection of language
9) Comprehensive tax automation
10) Personalised retail applications for Android and iOS through the features offered by Ecwid ShopApp (for Ecwid Unlimited users only).
Customers will also be provided with a completely free plan for Ecwid. It will provide complete functionality for plugins and modules. Its control panel will now be accessible through the WP dashboard just like other plugins.
Moreover, Ecwid WP plugin will offer automatic upgrades from time to time. Security aspects of the system are also not compromised with. Users will get this new plugin through hosting provided by the secure and powerful Amazon EC2 server and that too completely free.
Ecwid has also been certified as a PCI-DSS Level 1 service provider, which promises a secure network for all sorts of payment transactions. With so many free yet quality features, this platform could stand out among the top contenders in the ecommerce market.
If you've got a great idea, talk to us to learn how our Cloud services could help you take it to market sooner. Get in touch by clicking here or call us on 0800 817 4727. Entrepreneurial flair and helping businesses to grow are at the core of what we do!
Speak with a Storm Expert
Please leave us your details and we'll be in touch shortly