Awards
7th Win at ISPAs for Storm Internet | Storm Internet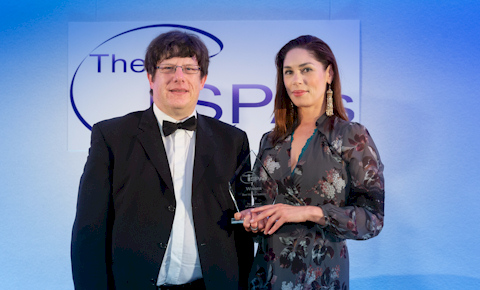 Storm Internet is proud to announce their 7th win at the 2019 UK Internet Industry Awards, the ISPAs. This year taking home Best Hosted Service.
This year the ISPA's were held in London at the Intercontinental Park Lane Hotel. The ISPA was founded in 1995 and the awards are the UK's longest running for the internet industry. At the forefront of promoting innovation, competition and best practice within the UK Internet industry, the awards ceremony celebrates those at the top. This year's gala ceremony saw submissions and entries that truly reflect the breadth, quality and innovation of the ISP industry. The competition opened in December and entrants were whittled down to 64 finalists nominated across 12 categories.
Storm were shortlisted in three categories for Best Cyber Security, Best Customer Solution and Best Hosted Service, and went on to take home a win for Best Hosted Service. The judges were particularly impressed by Storm's identification of technical risks to customers and targeting investment internally to address this.
Salim Benadel, Founder of Storm Internet said "This is our 7th award win at the ISPAs and we're absolutely delighted to have been awarded Best Hosted Service. The competition this year was some of the toughest we've seen. So to take a win in this category is a real honour, privilege and testament to the hard work our team carry out daily in trying to create the very best Managed Hosting service that we possibly can. We're truly delighted with the result".
2019 has seen another busy year for Storm. Their dedication to security continues to be a key focus.  Since last year's commendation at the ISPAs they have been firmly devoted to their three main goals – data security, availability and disaster recovery.
They have also been involved in the development of a bespoke platform designed for a large healthcare SaaS provider. In designing the unique customer solution they have been able to take the model and offer the best in cloud based data security, availability and service to businesses of all sizes across the UK.
Everything the company does is backed by high-level 24/7/365 support – a hallmark of the Storm Internet service and product offerihttps://www.storminternet.co.uk/awards/ng.
Previous wins at the ISPAs for Storm include "Best Cloud Service" and "Best Host" award in 2017, "Best Cloud Product" award in 2016, the "Best Business Use of Cloud award  in 2015, the "Best Dedicated Hosting" award in 2014, and the "Best SME Business Hosting" award in 2013.
For more information contact:
Charlotte Scadeng
[email protected]
www.storminternet.co.uk
Speak with a Storm Expert
Please leave us your details and we'll be in touch shortly